The
"3rd International Webinar on Surgery and Anesthesia"
will be during on
November
30-DECEMBER 01
, 2023
at Dubai time (GTM +4). The Webinar event will include prompt Keynote Presentations, Oral Presentations. The Webinar will be hosted on Zoom platform.
Scientex Conferences welcome all the interested participants across the globe to its esteemed through "
Surgery
2023
" with the theme, "
Exploring New Innovation and Medical Revolutions in Surgery and Anesthesia".
Our goal is to lead together worldwide distinguished academics in the field of Surgery 2023 to exchange and share meaningful experiences of various
Surgical Incision
through Webinar. Participants have the opportunity to get e-certificate and e-book for both speakers and delegates.
Past Webinar Presentation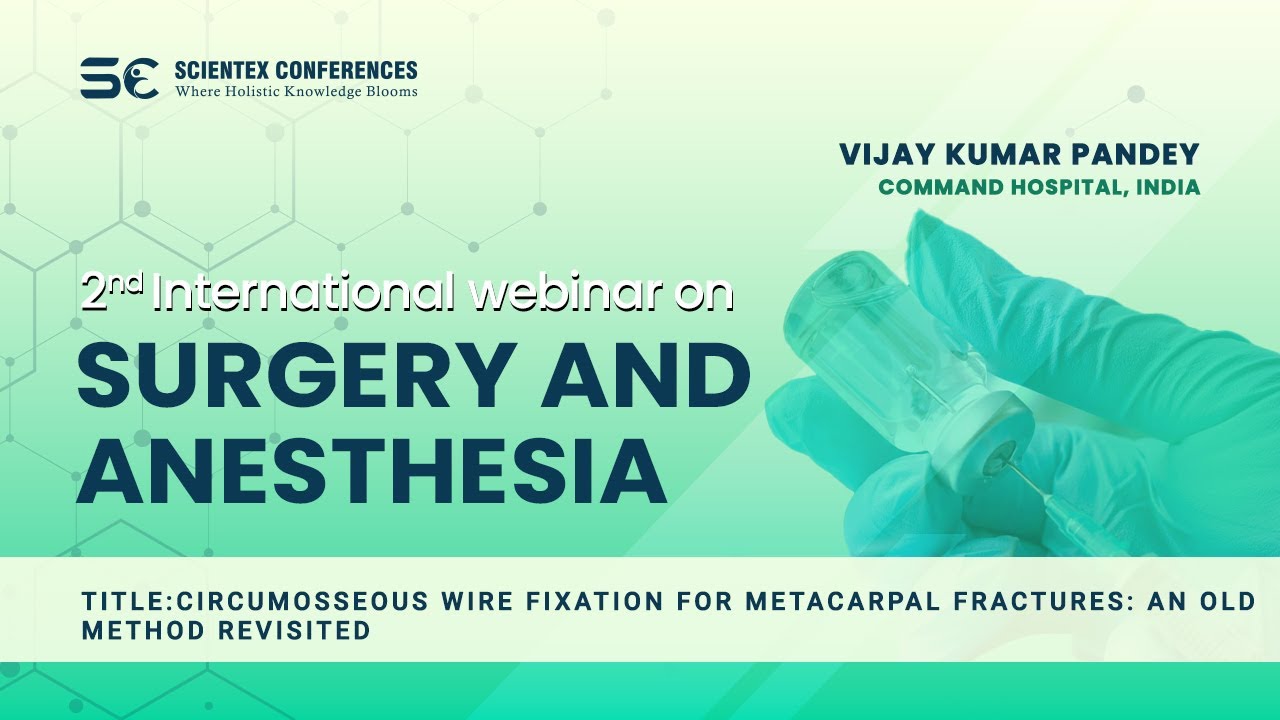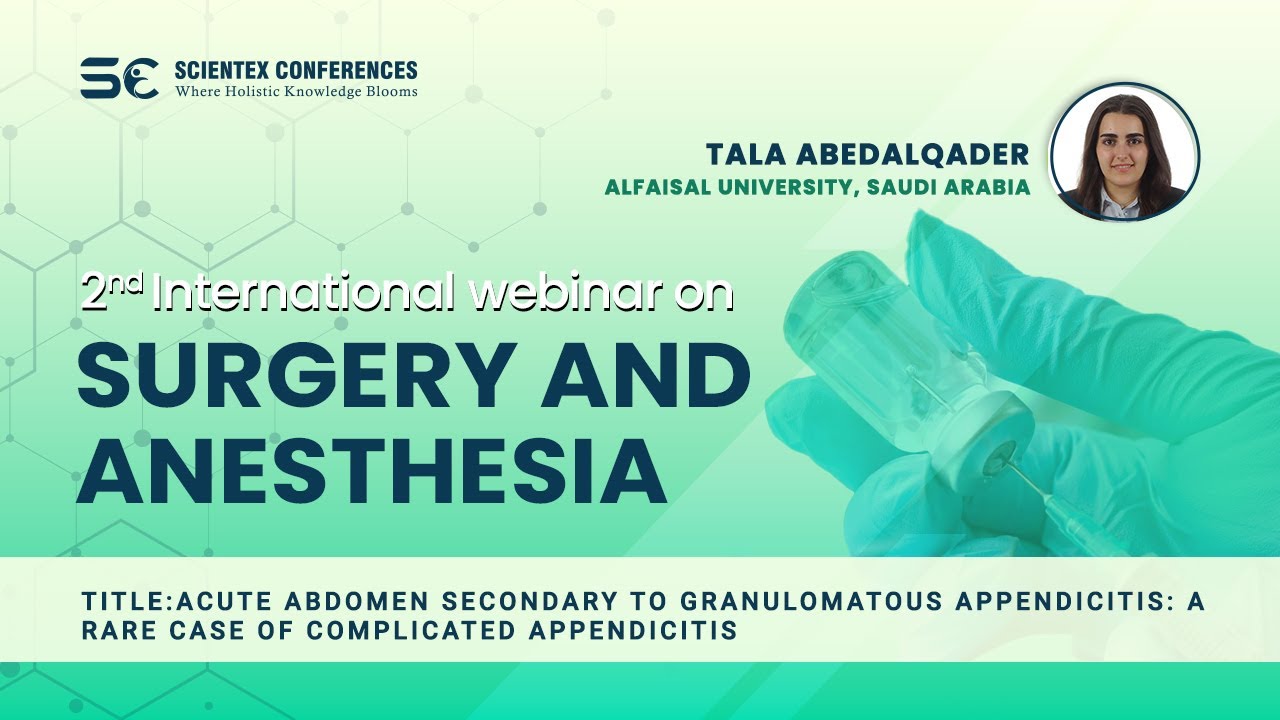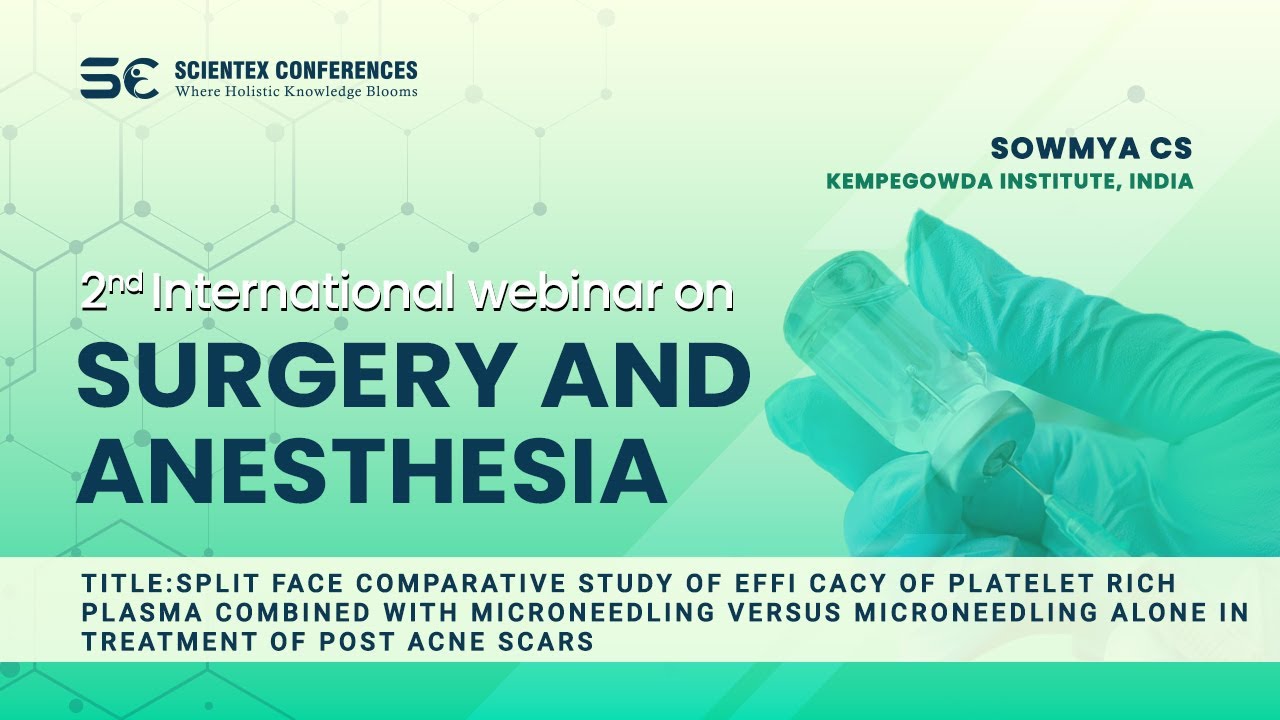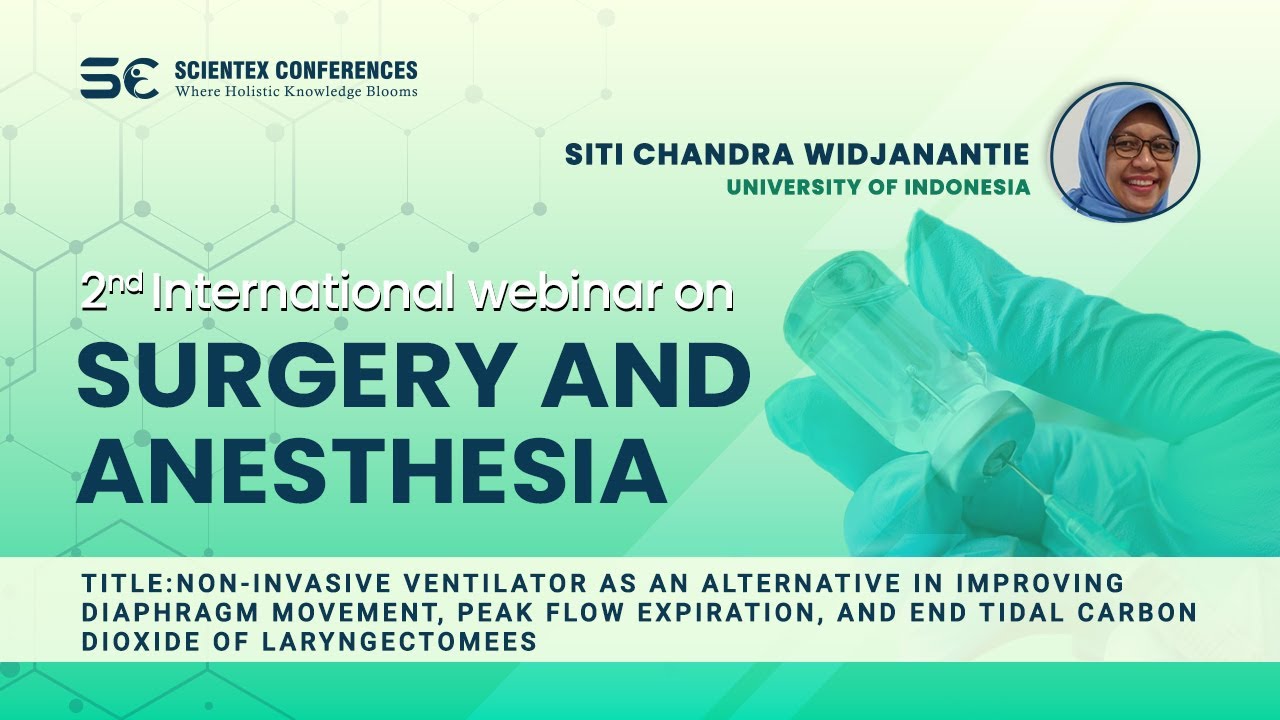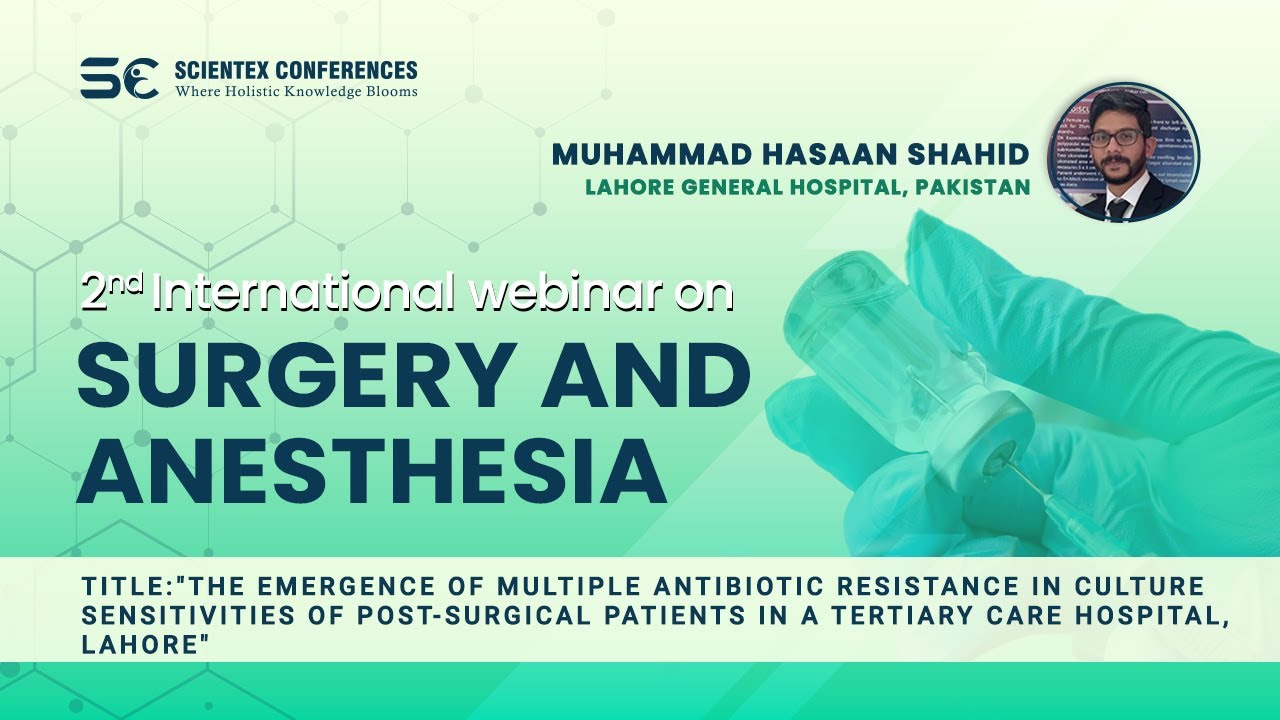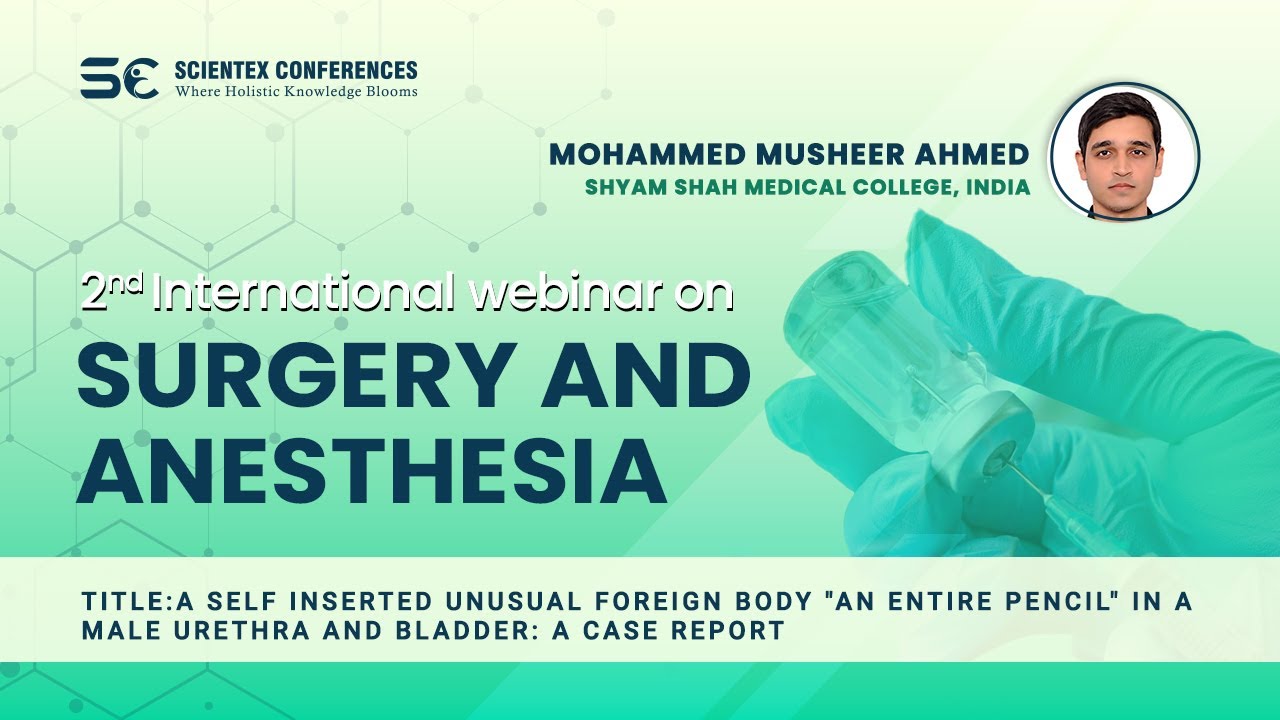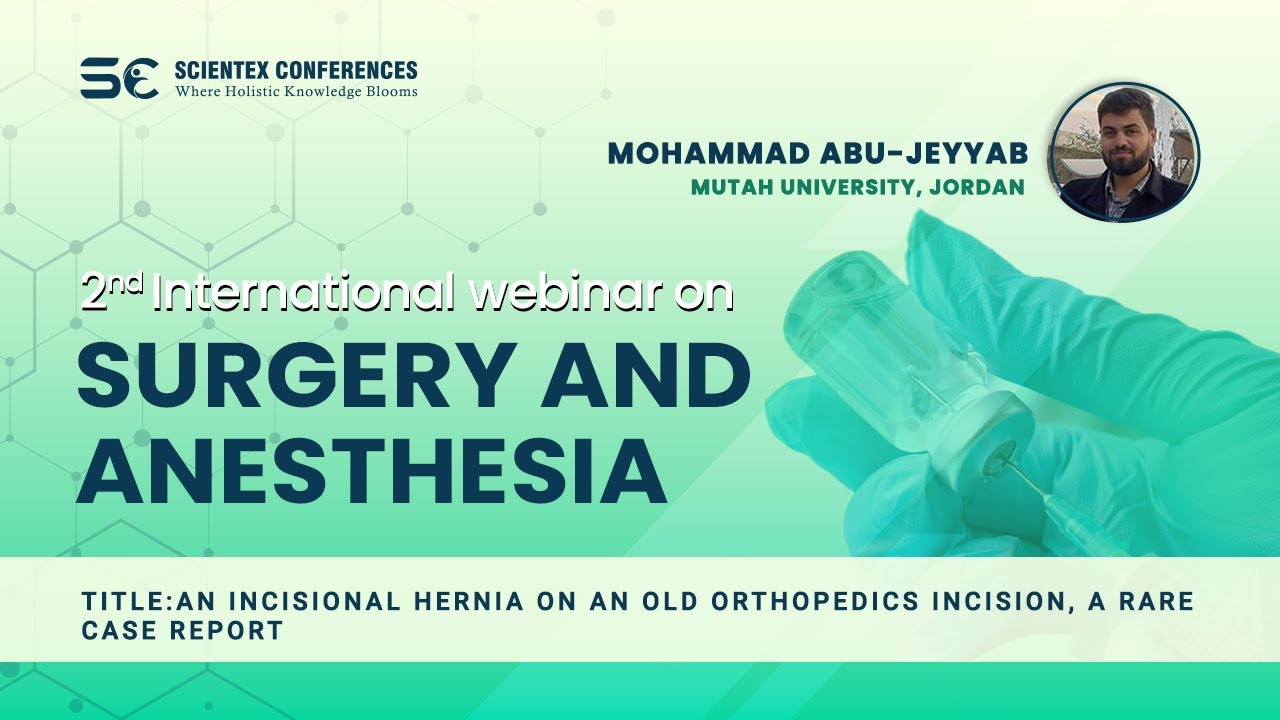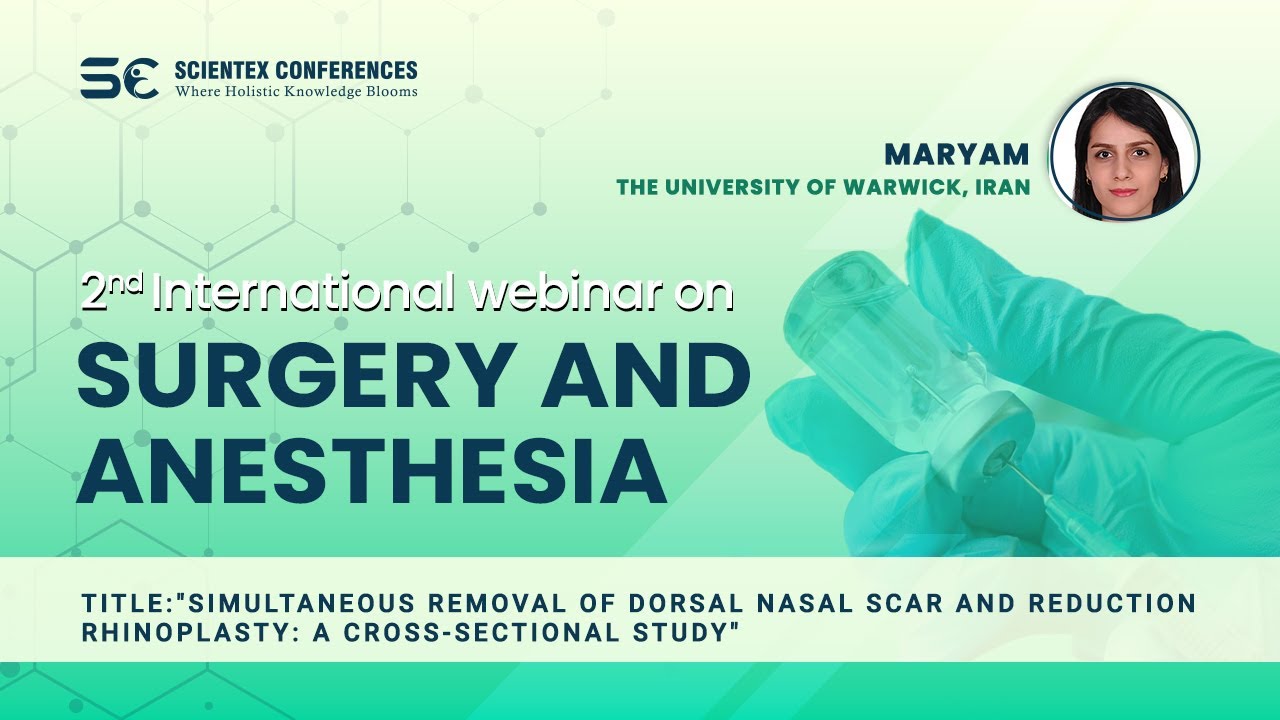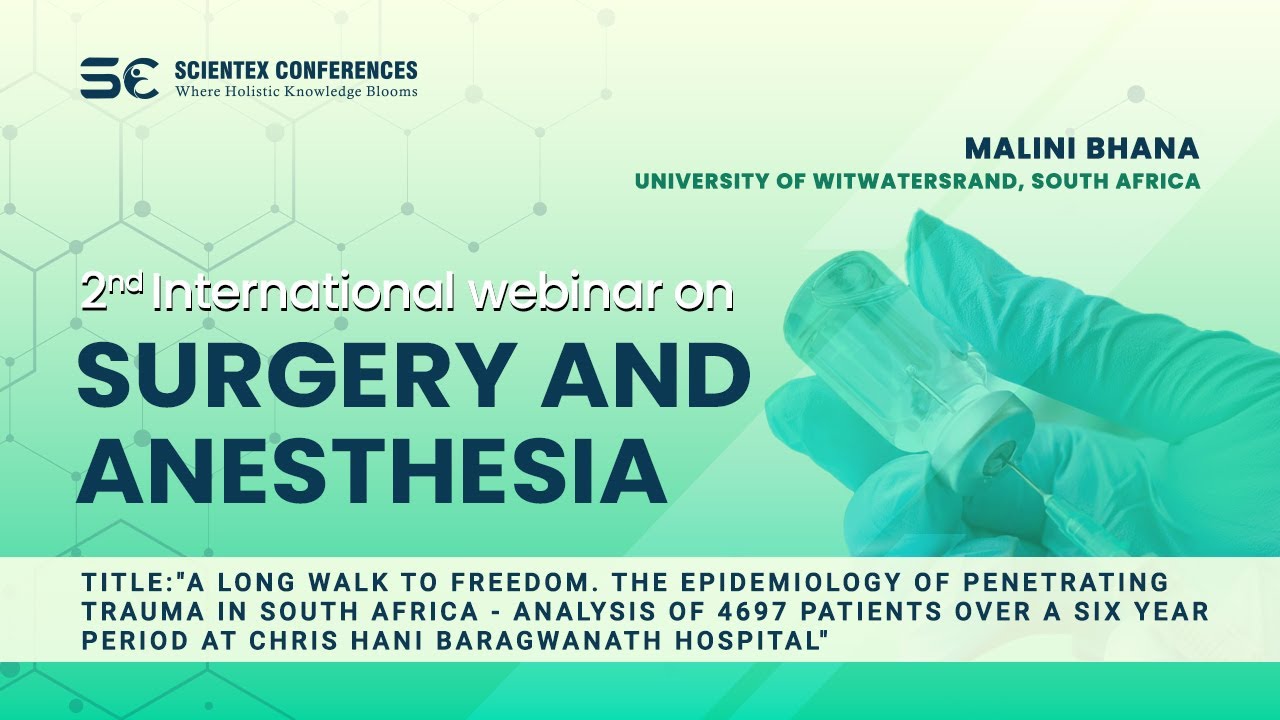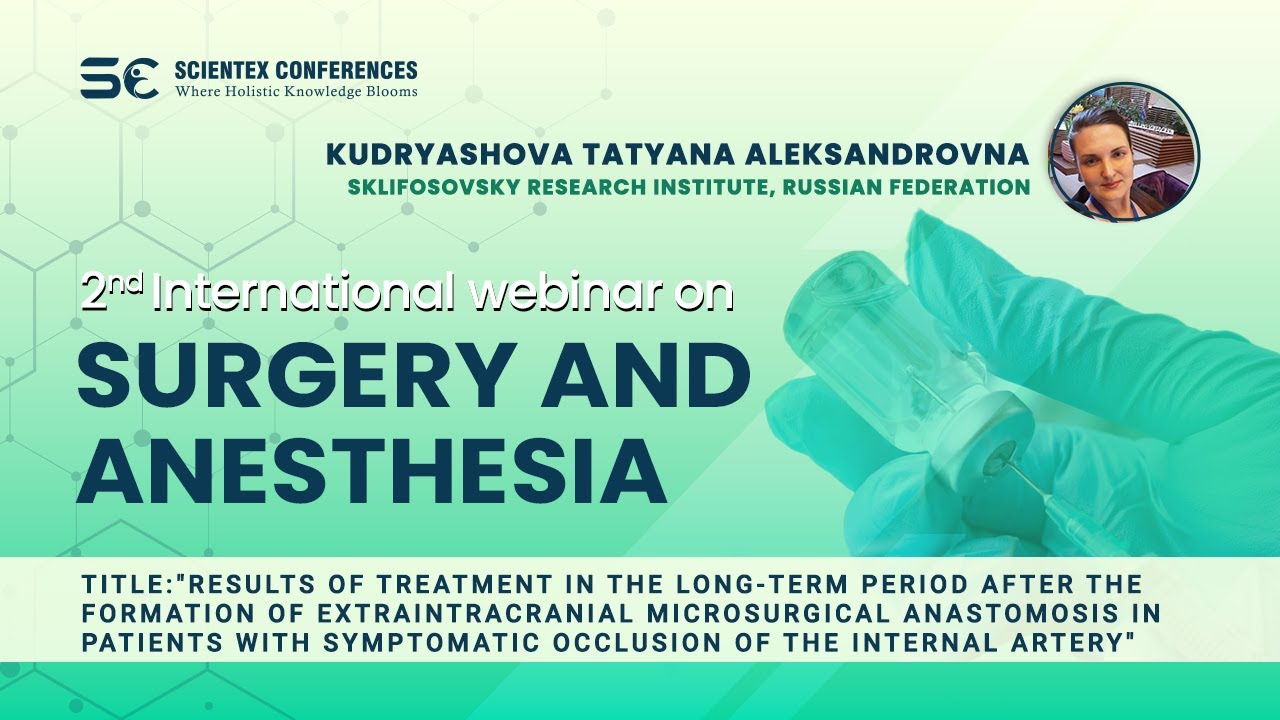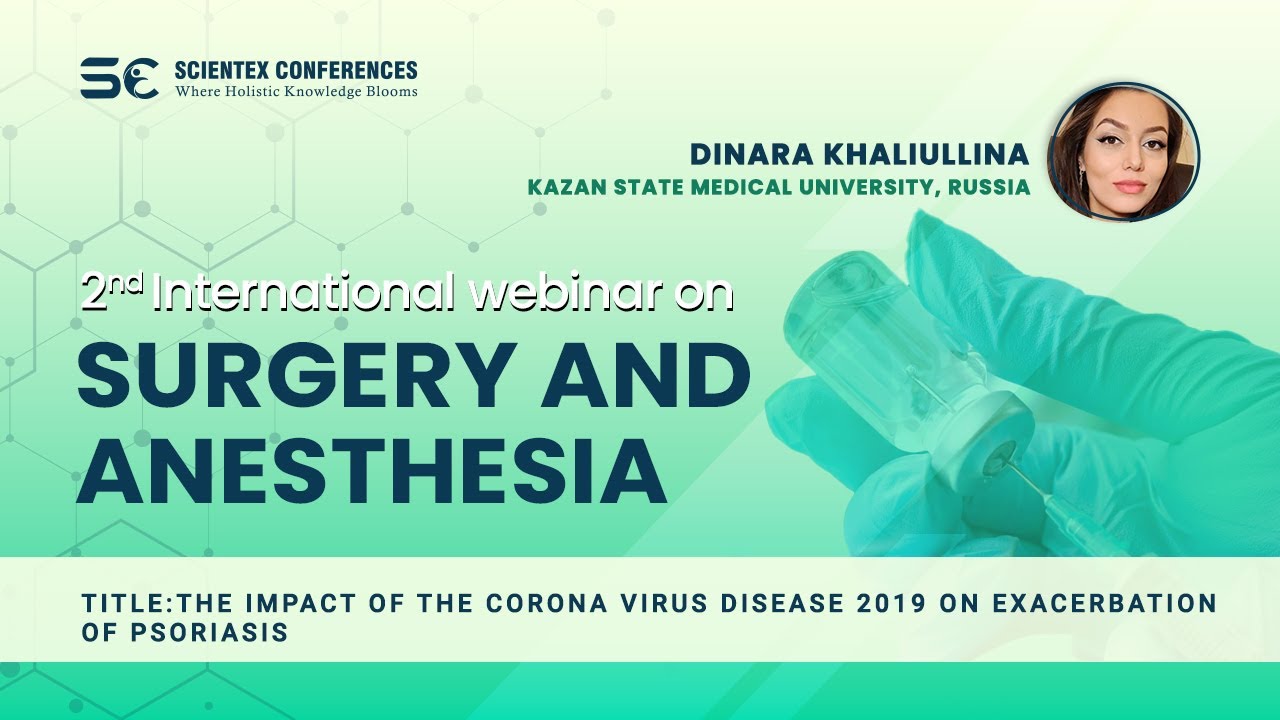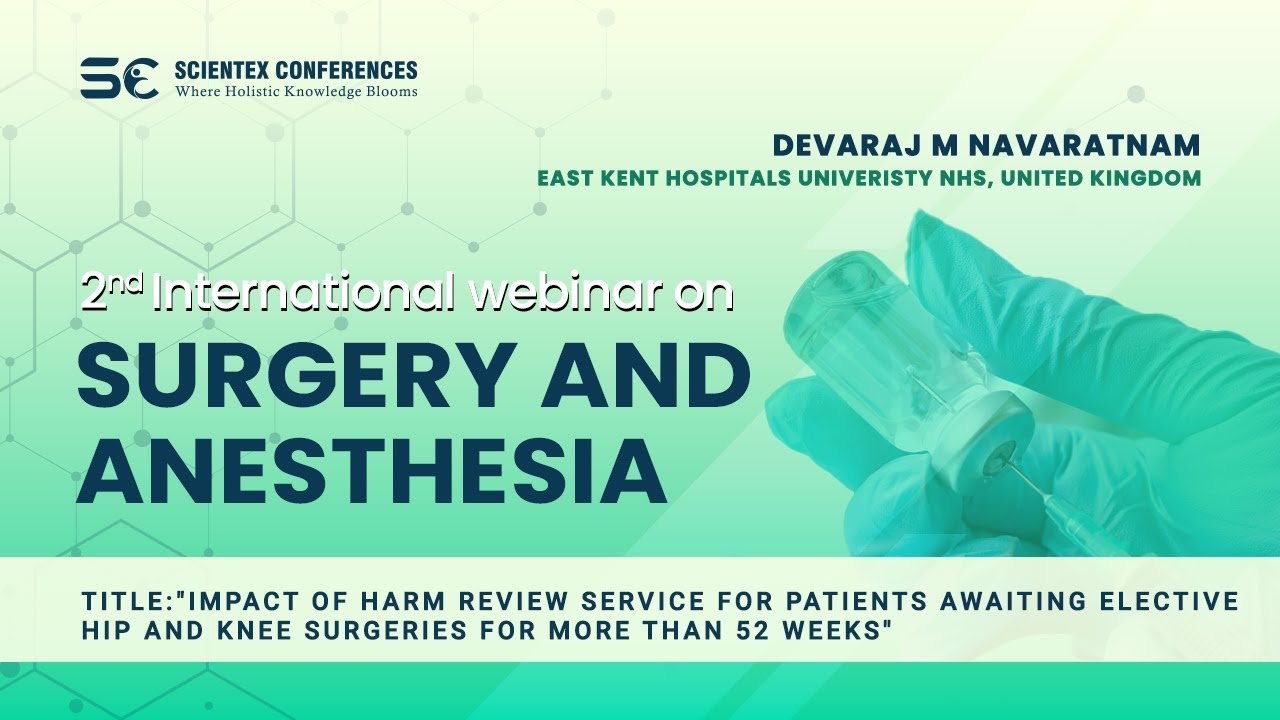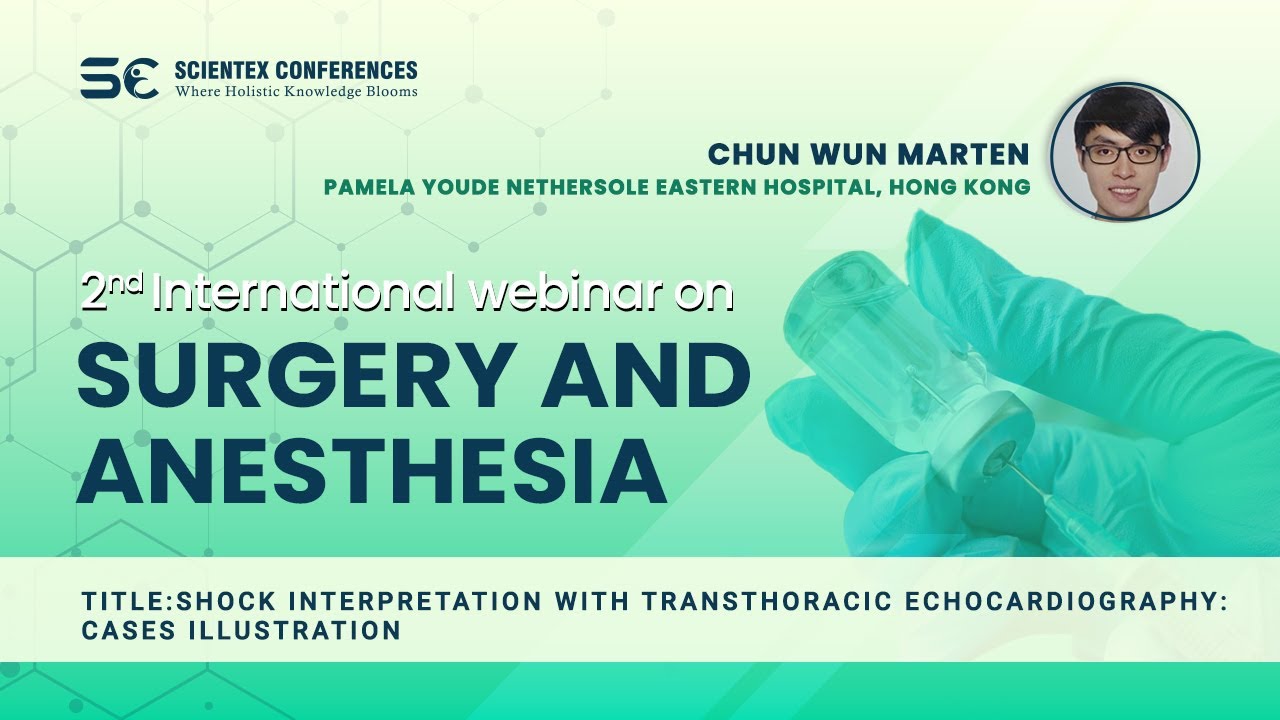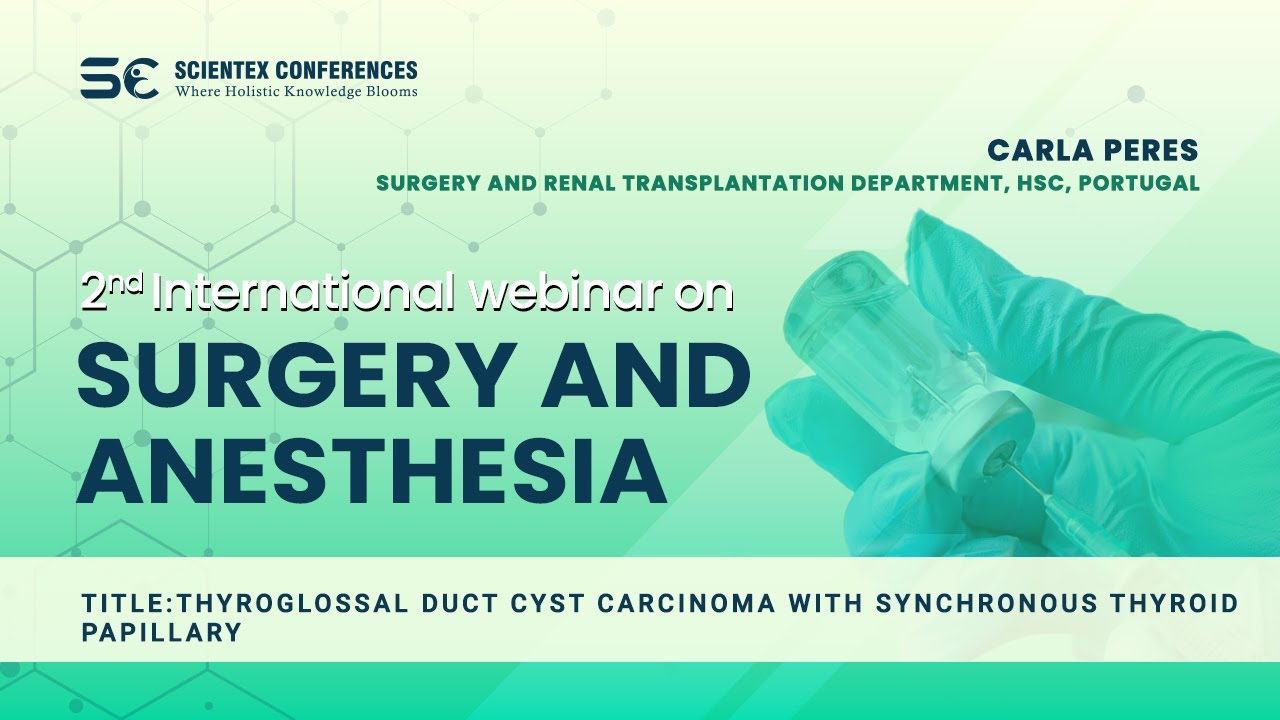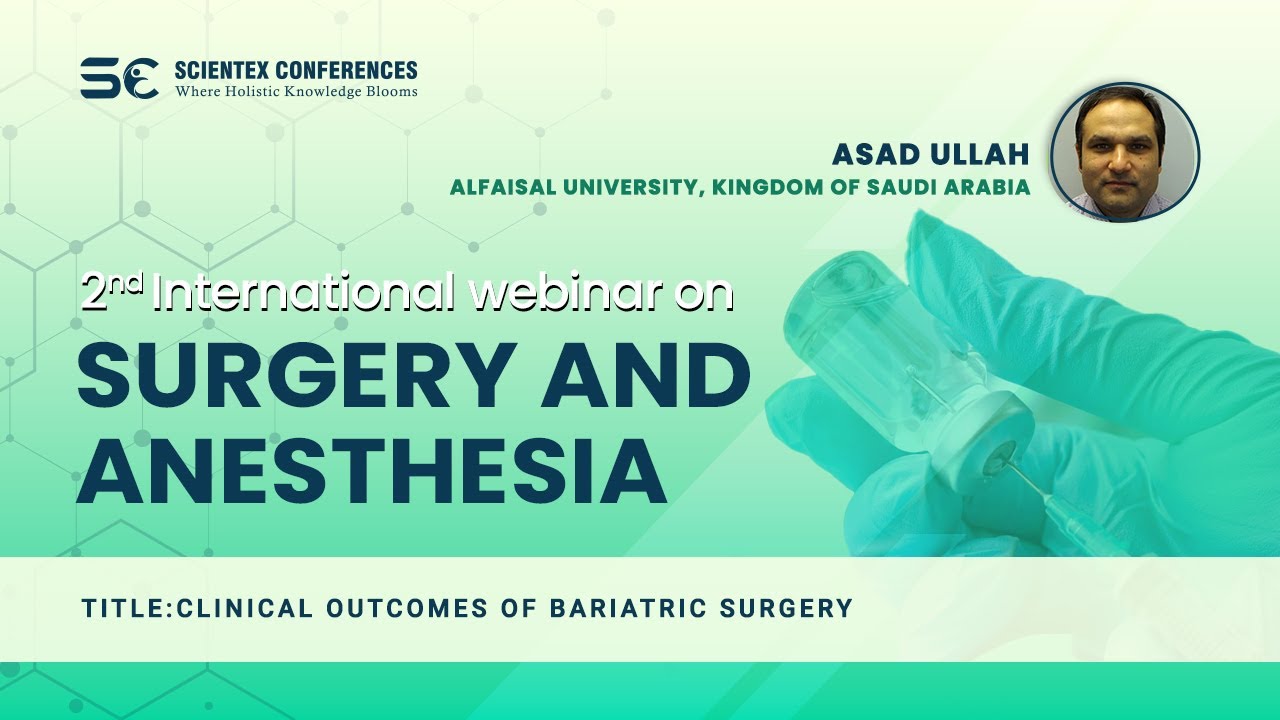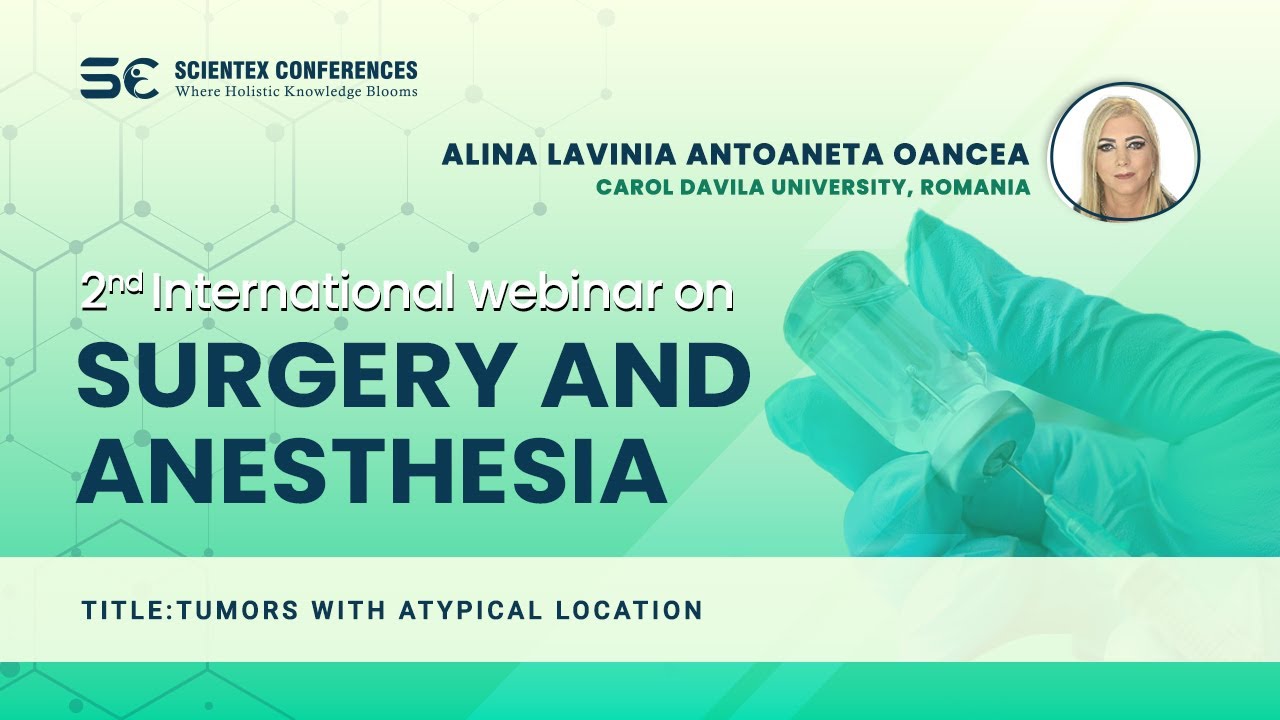 Past Webinar Presentation Links
Title : Circumosseous wire fixation for metacarpal fractures: An old method revisited
Command Hospital
Title : Acute Abdomen Secondary to Granulomatous Appendicitis: A Rare Case of Complicated Appendicitis
Alfaisal University
Title : Split face comparative study of effi cacy of platelet rich plasma combined with microneedling versus microneedling alone in treatment of post acne scars
Kempegowda Institute of Medical Sciences Hospital and Research Centre
Title : Non-Invasive Ventilator as an Alternative in Improving Diaphragm Movement, Peak Flow Expiration, and End Tidal Carbon dioxide of Laryngectomees
University of Indonesia
Title : "The Emergence of Multiple Antibiotic Resistance in Culture Sensitivities of Post-surgical Patients in a Tertiary Care Hospital, Lahore"
Lahore General Hospital
Title : A Self Inserted Unusual Foreign Body
Shyam Shah Medical College
Title : An incisional hernia on an old orthopedics incision, a rare case report
Mutah University
Title : "Simultaneous Removal of Dorsal Nasal Scar and Reduction Rhinoplasty: A Cross-sectional Study"
The University of Warwick
Title : "A Long Walk to Freedom. The Epidemiology of Penetrating Trauma In South Africa - Analysis of 4697 patients over a six year period at Chris Hani Baragwanath Hospital"
University of Witwatersrand
Title : "Results of treatment in the long-term period after the formation of extraintracranial microsurgical anastomosis in patients with symptomatic occlusion of the internal carotid artery"
Sklifosovsky Research Institute of Emergency Medicine
Title : The impact of the Corona Virus Disease 2019 on exacerbation of psoriasis
Kazan State Medical University
Title : "Impact of harm review service for patients awaiting elective hip and knee surgeries for more than 52 weeks"
East Kent Hospitals Univeristy NHS Foundation Trust
Title : Shock interpretation with transthoracic echocardiography: Cases illustration
Pamela Youde Nethersole Eastern Hospital
Title : Thyroglossal Duct Cyst Carcinoma with Synchronous Thyroid Papillary
Surgery and Renal Transplantation Department
Title : Clinical Outcomes of Bariatric surgery
Alfaisal University
Title : Tumors with atypical location
"Carol Davila University of Medicine and Pharmacy Bucharest"
Tala Abedalqader
Alfaisal University , Saudi Arabia.
Mohammed M. Ahmed
Shyam Shah Medical College,India.
Dinara Khaliullina
Kazan State Medical University, Russia
David Vilchis
ISSEMYM Medical Center
Jaimin Shin
NYU Langone-Brooklyn
Diego H.de Villalobos
The University of Texas
Liaqat Ali Khan
Health Jazan
Chun–Wun Marten
Pamela Youde Nethersole Eastern Hospital
Muhammad Hassan
Lahore General Hospital
Abdulrahim Aljayar
University of Benghazi
Vakhtang Shoshiashvili
Tiblisi State Medical University
Farah Naaz
Vydehi Institute of Medical Sciences and Research Centre,India
Venuprasad
Sapthagiri Institute of Medical Sciences and Research Institute,India
Ahmed Nasr Ghanem
Mansoura University , Egypt
Tikuneh Alemayehu
Debre Tabor University, Ethiopia
Pedro Forcado
University of Buenos Aires, Argentina
Dr Phoebe Lam
Perfect skin solutions,China
Who Can Attend This Webinar?
• Surgical tool technicians
• Anesthetists
• Cosmetologist
• Plastic Surgeon
• bypass Surgeon
• Ophthalmologist
• Pharmaceutical Industrialists
• Pediatric Anesthesiologists
• Pediatric surgeon
• Cardiac surgeon
• Surgical Nurses
• Orthodontists
• Dermatologist
• Cardio thoracic Surgeon
Surgery 2023 When,What and Why ?
Webinar Name: 3rd International Webinar on Surgery and Anesthesia
Theme: Exploring New Innovation and Medical Revolutions in Surgery and Anesthesia
Webinar
Date: NOVEMBER 30-DECEMBER 01, 2023
Time Zone: GMT+4(UAE)
Platform: Zoom
Benefits:
Get an opportunity to meet renowned scholars.
Chances to Interact, & Forge Powerful Professional Relationships.
Access to All Sessions Online.
E-Handbook kit.
E-Certificate Accreditation from the Organizing Committee.
Online publication of Abstract and Biography on our website.
10% abatement on the registration fees for the next annual conference.
Guidelines for Joining Webinar:
After register for the webinar, you will receive a meeting invite link with personalized user ID one day before the event for webinar access.
Follow the steps provided in prior, for preventing any technical issues on day of the event.
Ensure that your device meets the system requirements for running the specific application.
For audio/video clarification, it is always better to attach an external device.
Guidelines for Joining Presenters:
Each speaker will have 20 minutes for presentation. Please plan your talk for 15 minutes to allow for introduction and for 5 minutes Q&A session at the end of your talk.
In order to stay in track of time, please ensure that you start and end your presentation on the times indicated in the program.